How to store luggage
Book online
Book the most convenient storage point
Drop off bags
Show booking and drop off luggage
Enjoy your day
Enjoy your luggage-free day
Storage points near Chelsea
Customer's Reviews
Where to store luggage near Chelsea?
Are you looking for secure luggage storage near Chelsea? We understand how much you enjoy getting around New York, so we want to make it as easy as possible for you!
Qeepl provides a practical and affordable solution for luggage storage near Chelsea. For $4.90 per 24h, you can store bag, suitcase, backpack or even jacket in one of our storage points in New York, including several places near Chelsea.
Please choose from our network of hotels, boutiques, and stores, all accredited by the Qeepl team!
Book a luggage storage near Chelsea
Your New York visit is about to end but your B&B or hotel does not allow you to store your suitcases after check-out? No problem! We have instructions for the last day of the most fantastic holiday you have ever had! Use our website or download the Qeepl app and book a place at our luggage storage point near Chelsea to enjoy your day!
If you don't have time, don't worry about it! Our service is fast, safe, and reliable. If you want to know more about us, please feel free to contact us. Qeepl is an efficient luggage storage network all over the country, which can simplify your travel and life!
Price
Chelsea luggage storage 2022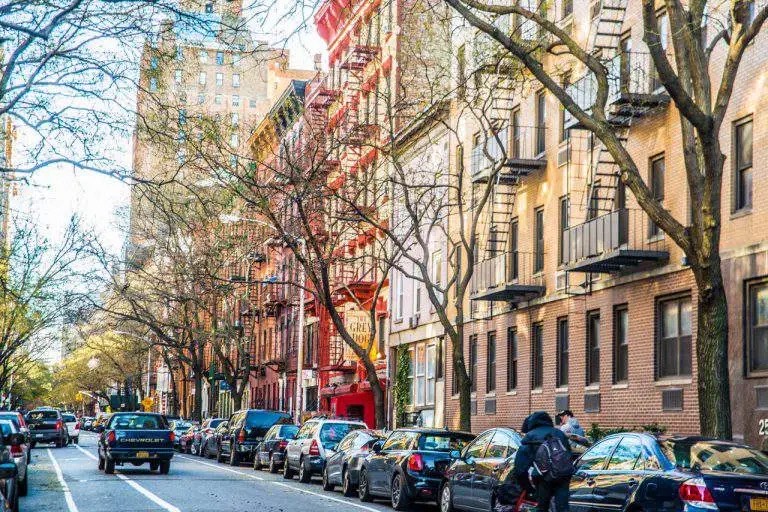 Chelsea is not your regular kind of neighborhood. It is quite alright, a neighborhood located on the West Side of the borough of Manhattan in New York. It will interest you to know that there are a lot of things you don't know about this neighborhood, including the fact that it has many great sights. The most outstanding of all that is available in this neighborhood are the 200+ art galleries. Little wonder why Chelsea is often described as the Art District of Manhattan or New York's Art District. These are a couple of interesting facts about Chelsea:
The neighborhood was named after the Royal Hospital Chelsea located in London, England.

Chelsea is also home to most of the LGBT members in New York City. The gentrification came into full swing following the gay riots that began throughout NYC.

The neighborhood has reportedly expanded up to 6 times the original size. This massive expansion took place within 200 years.
Away from the eccentricity of the neighborhood — where can you store your bag when you come to Chelsea? JFK Airport, Penn Station, and Newark Airport are some of the best places to find a storage facility for your baggage. But, that would mean traveling some miles and paying huge amounts of money to have your bags stored? Why don't you take the cheaper and more flexible option of handing over your bags to a reliable luggage storage Chelsea service provider? Qeepl does not only keep an eye on your bags and offers great service. This way, you will get to explore and acquaint yourself with the neighborhood without dragging some load behind you.
Where to Eat?
We guess that you are either hungry or you will be hungry soon. So, let us inspire you with some of the best restaurants that cook and serve delicious meals around the location you stay in Chelsea:
Cookshop
Socarrat Paella Bar
El Quinto Pino
Cafeteria
The Frying Pan
Citizens of Chelsea
Blue Ginger
The Meatball Shop
Westville Chelsea
The Commons Chelsea
Where to Go?
Feeling bored and looking for fun places to spend your layover or spare time while at Chelsea? Here are a couple of the midtown best attractions that are loved by both guests and locals:
Take a stroll down High Line

Eat your favorite meals at Chelsea Market

View the best artworks at Pace, Gasosian and David Zwirner

Visit the popular and iconic Madison Square Garden

Shop at nearby souvenir shops
How to get to Chelsea?
You can get to Chelsea, Manhattan by train, bus, and subway. The 23rd Street Station is the nearest train station where you can make a booking for a ticket to Chelsea.

The nearest subway station to Chelsea is located at 23 Street, and the Subway Lines (A, C, E) are the lines that stop near Chelsea.

Finally, you can use the W 23 St/8 Ave bus station, because it is the closest to Chelsea. Besides, you can use M23-SBS, or you can take M7, the last bus that leaves the bus station.
FAQ
Can you tell me the address?
Where are my items stored?
How to cancel my booking and get a refund?
How to extend my booking?
Can I make a booking at one location and arrive at another one?
Can I pay at the Storage Point?
What is the nearest luggage storage to me near Chelsea