![Beverly Hills luggage storage Qeepl](https://d17uxijbwk9zyb.cloudfront.net/U9LQCC.jpeg)

Spanning from San Vicente Boulevard to Whittier Drive, Beverly Hills has never really been officially considered a part of LA by the local municipality. But that doesn't stop the city from having a distinct LA and Sothern California culture. The city is located 20 minutes from the Los Angeles airport.
Beverly Hills was first called the El Rodeo de las Aguas in the late 1800s. By 1907, the subdivision of Beverly Hills was created developer Burton Green. Seven years later, the City of Beverly Hills was officially incorporated. At first, Beverly Hills was a predominantly homely and rustic place in the suburbs. But with actors like Douglas Fairbanks and Mary Pickford moving here in 1919, the city became a beloved summer residence for Hollywood stars. From the 1920s onwards, Beverly Hills, Los Angeles, has been growing at an exponential pace. The presence of so many celebrities created a need for niche and high-end service providers, ushering in white-collar immigrants. Today, Beverly Hills is a very diverse place, with lots to offer locals and visitors alike. We're sure you'll love this city as much as we do.
When you get to Beverly Hills, the first thing you should do is find luggage storage facility and drop off your bag at our baggage storage facility. At Qeepl, we have extensive experience taking care of bags and suitcases, while their owners need some time. We work with Beverly Hills hotels, restaurants, and shopping complexes to provide your baggage storage facility. All you need to do is open the map and find the nearest Qeepl location. Follow the map directions, drop off your luggage, and hit the road.
After you've dropped your bag, you can:
Taking a photo of yourself standing in front of the Beverly Hills city sign is a tradition that every local and visitor does when they first visit the city. So, this is something you absolutely have to do, to commemorate your trip here.
Beverly Gardens Park is a beautiful location due to its amazing local flora. You can easily take a relaxing stroll and enjoy nature's bounty here. But it's more famous for being the location of the world-renowned artist Yayoi Kusama's Hymn of Life: Tulips exhibit. This gorgeous and unique piece of art champions Kauma's whimsical and magical artistry, transporting you to another world.
Rodeo Drive – that's where all the magic happens. No trip to Beverly Hills is complete if you don't take a drive or walk down Rodea Drive. This is one of the most premium streets in Los Angeles and you'll find decadence and luxury everywhere you look. From window shopping to actually shopping, you can spend hours here. The city's bus system is amazing and every second bus goes towards Rodeo Drive.
The Doheny Estate is one of the oldest and most beautifully maintained estates in Beverly Hills today. You can book a tour of this Tudor Revival Greystone mansion and its expansive verdant gardens. There are many Insta-worthy spots on this property.
Love cheese? The Cheese Store of Beverly Hills has over 500 varieties of cheese. They encourage visitors to taste and purchase as many as they prefer.
The Frederick R. Weisman Art Foundation is home to some of the world's most celebrated artworks. The gallery-cum-museum houses over 400 pieces by ancient masters and contemporary artists. They organize regular exhibits and each covers a unique theme from the world of art.
If you are a bibliophile, you'll love a visit to the soothing Margaret Herrick Library. It is home to thousands of books, many of which come from the pre-1900s era.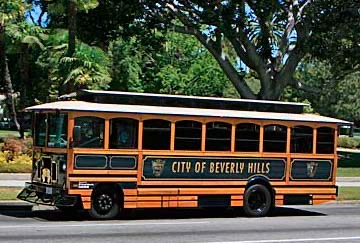 Don't have much time to explore Beverly Hills? That's okay. Take the 40-minutes trolley ride, which will take you past a few important landmarks of the city. Once you're done, you can head back to collect your heavy bags and get on with your journey.
If you're hungry during your exploration of Beverly Hills and Los Angeles, you should definitely head over to one of these amazing restaurants. They're all within walking distance from the iconic landmarks of the city:
A celebrated LA restaurant, Lawry's is renowned for having the best roasted prime ribs in Beverly Hills and Southern California.
Don't want to experiment too much with your food? Well then, The Farm of Beverly Hills caters to traditional American tastes. From burritos to pancakes to chicken sandwiches, you'll get a variety here.
This landmark Jewish deli has been around for quite some time, delighting customers' taste buds for years. Rustic home-style meals await those who want zero-fluff food that's packed with value and taste.
This Michelin-starred restaurant is probably one of the most famous restaurants in Beverly Hills. Its minimalistic, unassuming aesthetic belies the immense taste and power behind its dishes. Plus, the service here is absolutely amazing and the friendly staff so welcoming.
One of the most reputed Chinese restaurants in Los Angeles. It has been a staple dining place for the rich and the famous in Beverly Hills.
A bakery that's actually a cupcake ATM? That's exactly what you get with the Sprinkles Cupcake Bakery & ATM. Located on Rodeo Drive, Sprinkles dispenses delicious, decadent cupcakes every time someone swipes their card to make a payment. The cupcake flavor is not revealed by the owners, so it's always a pleasant surprise to find out which cupcake you'll get.