If you have an **adventurous spirit** and you're in **Mexico City** waiting to board your next flight, you won't want to sit around and watch the clock go by. 

Grab your luggage and head out to see some of the seven best places in this incredible city!
Seven places to visit in Mexico City
If you like luxury and comfort you have to come to Polanco. Located in one of the most exclusive areas of the CDMX, it offers you a range of entertaining places to visit from museums, shopping malls, parks, bars and some of the best restaurants in town.
We recommend taking a leisurely stroll through the idyllic Lincoln Park, feast your eyes on its lakes and have fun driving a remote control boat, which you can rent!
It is the preferred destination for many tourists visiting the country. If you decide to visit the Historic Center of the CDMX, you will find a number of activities and sites that you will want to know.
With more than 1,000 buildings, including museums, galleries, theaters and historical monuments, it won't take you long to feel the spirit of the ancient Mexican culture.
Walking through the picturesque downtown you will come across the immaculate Palacio de Bellas Artes, go inside and be impressed by its murals and beautiful architecture.
You will be in the heart of the city and, therefore, in the best place to try authentic and traditional Mexican food.
Being one of the most impressive cities of the pre-Hispanic era, visiting this place is a trip to the splendor of the Mexican past that you cannot miss.
Located in an immense valley, you have before you a catalog of places to go in Teotihuacan. The Pyramids of the Sun and the Moon, the Causeway of the Dead and the Citadel are some of the most visited sites in the mythical City of the Gods.
We recommend you choose some of the tour routes offered by the place, so you can enjoy your stay in the imposing Teotihuacan to the fullest.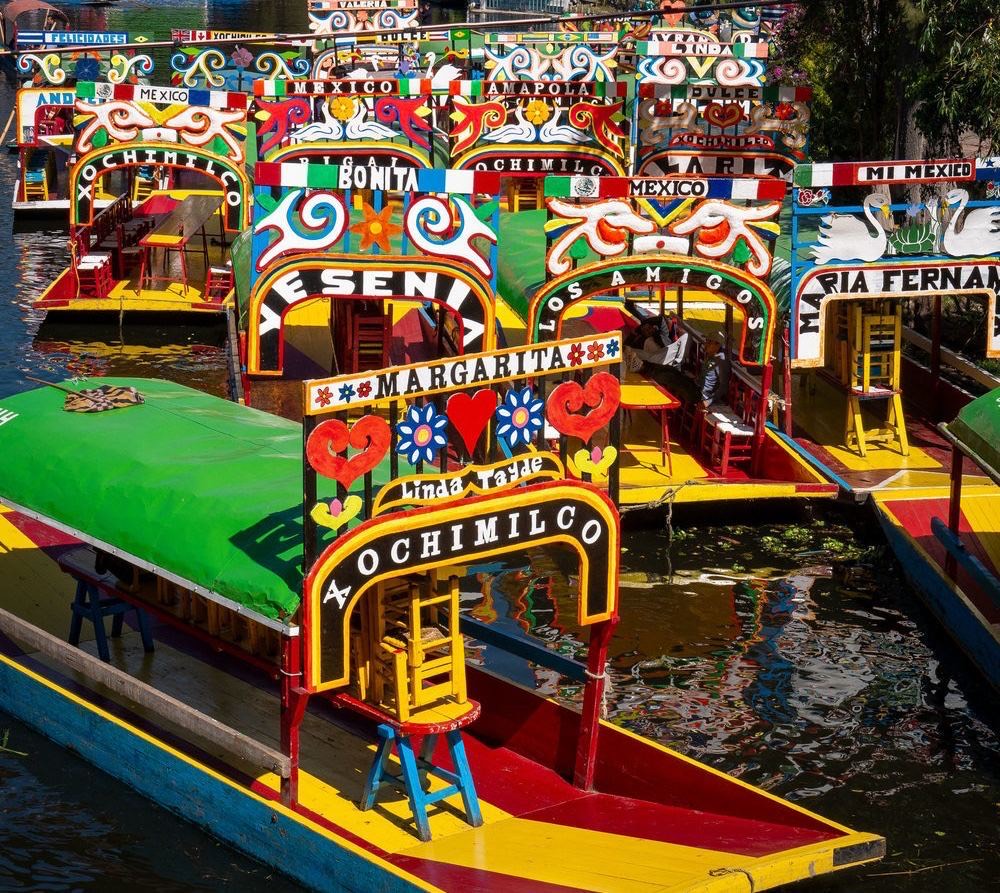 Only about 40 kilometers from the Historic Center is the colorful neighborhood of Xochimilco.
Dare to take a ride through its canals in its picturesque boats, while you take the ride delete yourself with the pleasant scenery that surrounds you. Take advantage of a stop at the handicraft markets and take home a nice souvenir.
This charming area is also known for its plant and flower growing, so if you are a gardening lover, you will surely enjoy visiting its market of colorful flowers and plants.
If you know anything about Mexican culture, you will surely have heard of the controversial Frida Kahlo. An exceptional painting artist and lover of her culture, the Mexican culture.
Located in the neighborhood of Coyoacán, this traditional Mexican architecture museum is one of the most visited museums in the CDMX.
You will love to visit what was his home for most of his life. You will be surrounded by personal objects of the artist, paintings, sculptures, you will see the typical spaces of a house but impregnated with Mexican culture.
Let yourself be enveloped by the vibrant energy that this place transmits, and that inspired this fascinating artist to create her outstanding works.
If you love green areas and breathing fresh air, then your place to visit in the CDMX will be the relaxing Bosque de Chapultepec.
Being one of the largest parks in the world, it has a great variety of spaces for you to explore and have fun.
Visit some of the park's interesting museums, and even a zoo. You can also choose to take a pleasant stroll through its long and ornate walkways.
You can't miss the largest fountain in Latin America: La Monumental It will surprise you! Take advantage of the opportunity and try some typical snacks at the stalls of friendly vendors that you will get.
As you walk through this entertaining neighborhood along its ancient cobblestone streets, you will discover the beauty of the place.
Take pictures in its colorful colonial buildings and beautiful gardens. When you get to the market your nose will be impregnated by the smells of Mexican seasoning, try the most typical of Mexico: tacos, enchiladas and quesadillas.
In the crafts market you will have endless options to bring gifts to those waiting for you at home. Beautiful gardens, museums, and even an impressive Japanese-style park, Masayoshi Ohira, are some of the places you can visit in dynamic Coyoacán.
Have you already decided which exciting place to visit in Mexico City? If so, your next decision is where to store your luggage.
That's why there's Qeepl, an online service that has been designed with travelers like you in mind, who want to make the most of their brief stay in Mexico City while waiting for their next flight.
We feature accredited CDMX hotels and shops, close to the most visited sites by tourists from all over the world. Storing your luggage with Qeepl is very easy. So don't think twice and book with us now.
All you have to do is enter our website or download our mobile application. With a few clicks select the storage place that is closest to the places you want to visit in this emblematic city.
You can also use a special coupon code for the first booking with Qeepl and get 10% off. Coupon: WELCOME10.
We don't want you to stress about your stay in CDMX, so book your luggage in an easy, safe and economical way with Qeepl in the place that is most convenient for you. And then go out and enjoy some of the seven best places that CDMX has to offer.